Compound Butter with Roasted Oysters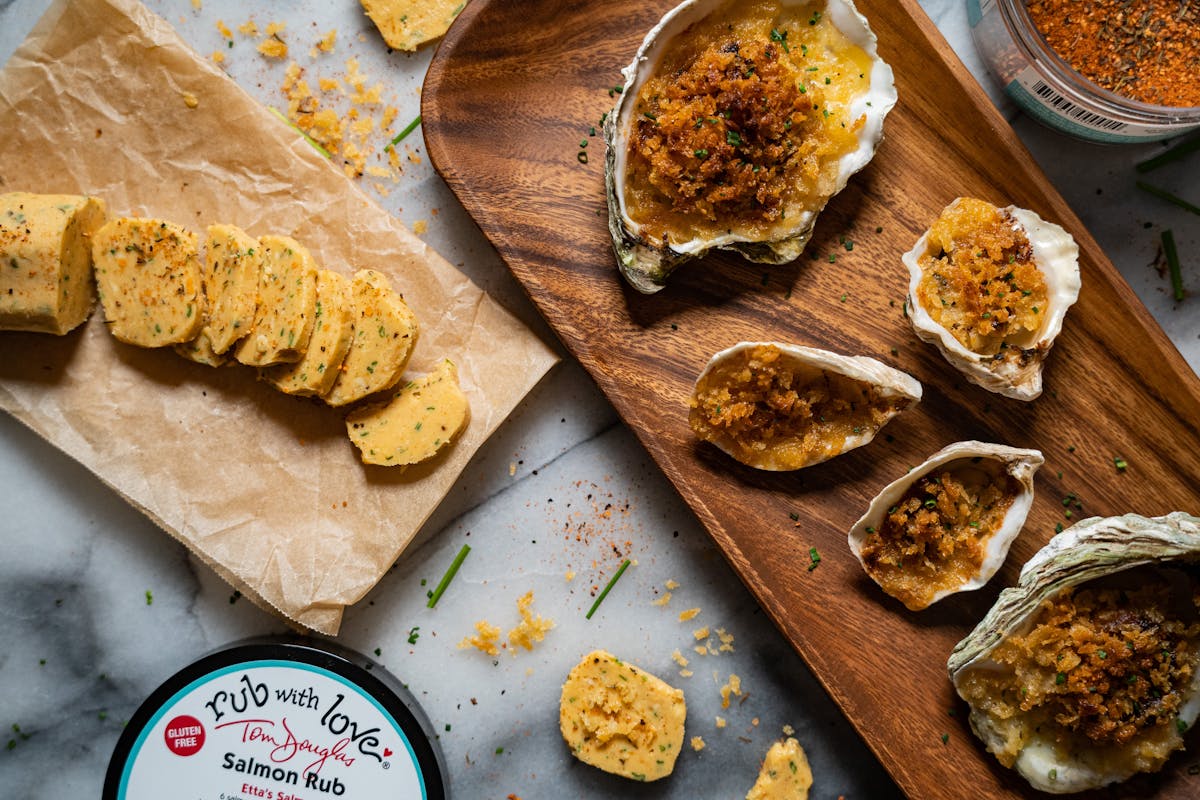 A Tom Douglas® Recipe
Roasted Oysters
One Dozen Oysters
INGREDIENTS:
1 dozen oysters of your choosing
½ pound unsalted butter + 4 tablespoons for breadcrumbs
1 tablespoon 'Rub with Love Salmon Rub'
2 teaspoons chives, minced
2 tablespoons white miso
2 teaspoons garlic, minced
½ cup panko breadcrumbs
1 lemon
Parchment paper (11'' x 10'' piece)
DIRECTIONS:
Preheat oven to 425° degrees.
In a medium mixing bowl, mix 2 tablespoons white miso with ½ pound room temperature butter.
Add 2 teaspoons minced garlic, 1 tablespoon 'Rub with Love Salmon Rub', and 2 teaspoon minced chives.
Mix until everything is evenly incorporated.
Transfer to parchment paper.
Shape and roll into a cylinder, about 6 inches in length and 2 inches in diameter.
Twist ends and seal.
Refrigerate for about 2 hours to firm up and let flavors marinate.
Add the remaining 4 tablespoons of butter into a pan on medium heat.
Once butter has slightly browned, add ½ cup of panko breadcrumbs.
Turn heat down to low and lightly toast breadcrumbs, making sure to not toast to much because they will be going back in the oven to finish toasting.
Once they are lightly toasted set aside to cool.
Shuck oysters and set on a rack.
Add a small spoonful of butter mixture to each oyster.
Top with brown butter breadcrumb mixture and place in oven.
Roast oysters until the butter is bubbling and the breadcrumbs are GBD (Golden Brown Delicious)
Remove from oven and garnish with chives.
Add a squeeze of lemon juice.
Enjoy!