"Double Play" Cheesy Smash Burgers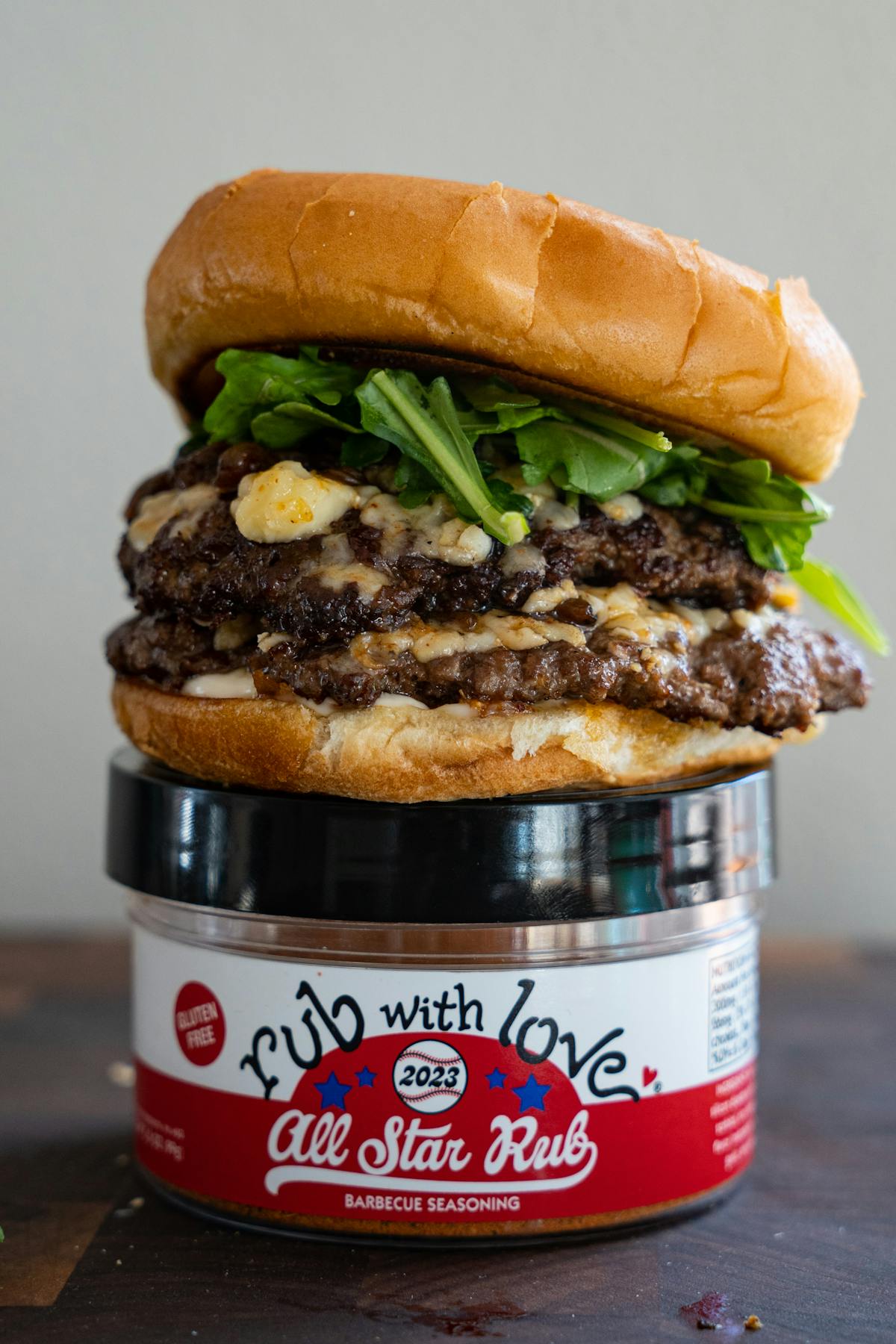 A Tom Douglas® Recipe
Makes 2 Double Burgers
INGREDIENTS:
1 pound of ground beef
1 tablespoon 'Rub with Love All Star Rub'
1 large yellow onion
1 cup Beecher's Flagship Cheese
Arugula, to top
4 brioche buns
½ cup mayonnaise
2 tablespoons Dijon
Sliced pickles
DIRECTIONS:
In a small bowl, mix together mayo and Dijon, set aside.
Thinly slice the yellow onion.
Preheat a large pan at medium-high heat. Add yellow onion.
Continue cooking the onions until caramelized to a golden brown.
Remove onions from heat and set aside.
In a small bowl, mix together grated Beecher's Flagship with 1 tablespoon 'Rub with Love' All Star Seasoning.
Form ground beef into 4 equal balls.
Use the heel of your hand to form into individual burger patties.
Press them out as thin as possible without creating holes in the patties.
Heat a skillet over medium-high heat and add burger patties.
If you have a weighted press, you can use it to "smash" your burger patties.
If not, simply use a spatula to press the patties down.
Flip and add the cheese mixture to the top of the patties.
Once cheese has melted, remove from heat and build your burgers.
Take burger buns and add to the pan. Griddle to a toasty brown.
Bun, mayo mixture, sliced pickles, beef patty, caramelized onion, burger patty, arugula, more mayo on the top bun.
Play ball!