LOVELY LOX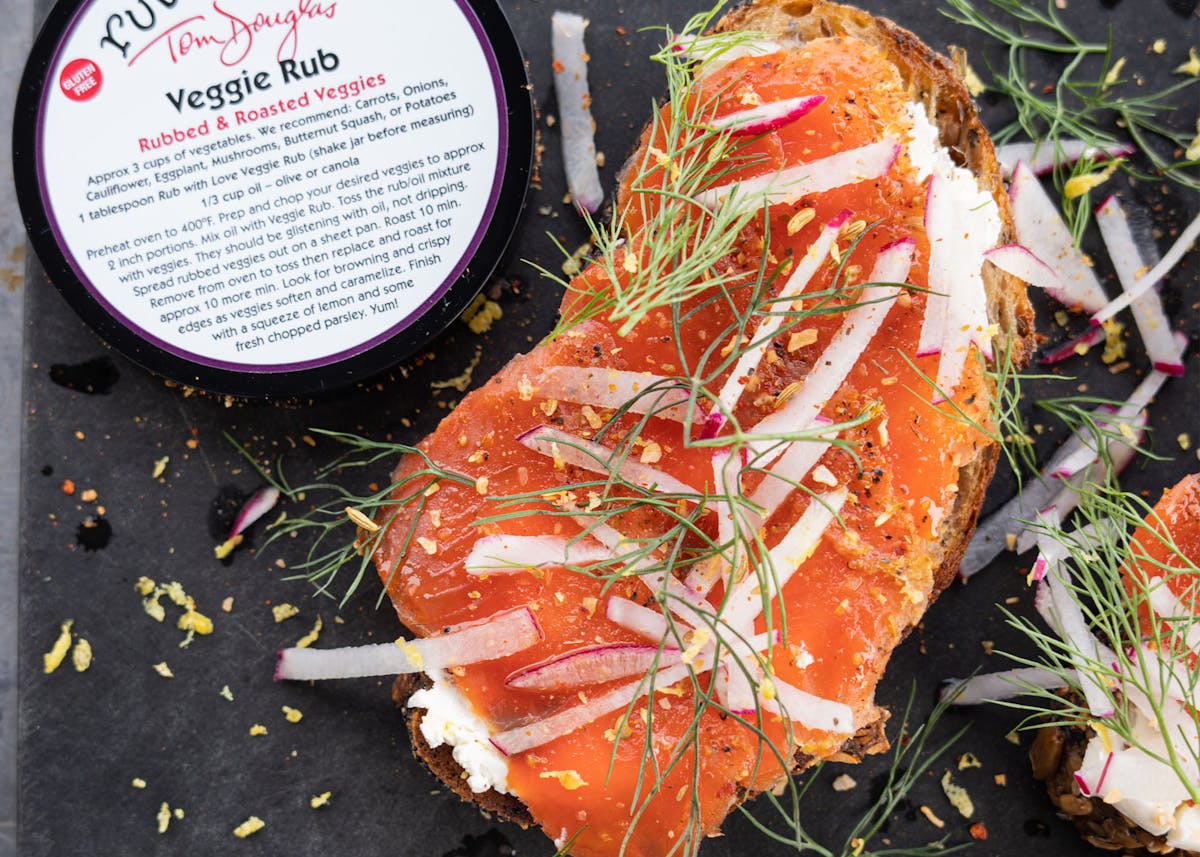 A Tom Douglas® Recipe
Lox and Bagels
INGREDIENTS:
1 pound side of Bristol Bay Sockeye Salmon
1/2 cup brown sugar
1/2 cup kosher salt
1/2 cup granulated sugar
1 1/2 tablespoons of 'Rub with Love' Veggie Rub
zest of 1 lemon
sprigs of fresh dill, for garnish
Tillamook Farm style Cream Cheese
6 Bagels or slices of seeded whole grain bread
DIRECTIONS:
Measure kosher salt, granulated sugar, brown sugar, and Rub with Love and mix in a small bowl.
Place salmon side, skin side down, onto a sheet of plastic wrap.
Cover salmon side with the salt, sugar, and rub mixture.
Rub mixture on salmon side.
Wrap salmon with another piece of plastic wrap and tightly secure.
Place wrapped salmon on a baking sheet or baking dish and place in refrigerator.
Refrigerate and leave it to cure for 24 hours.
When ready, remove from wrap, shake off as much of the sugar and salt mix as possible.
Pour away any liquid and do a quick rinse. Making sure not to use too much water.
Pat dry.
Place salmon side on cutting board.
Slice salmon thinly, starting from the tail end and slice paper thin.
Lightly toast either bagel or sliced seeded bread.
Spread Tillamook Cream Cheese on bagel or seeded bread.
Gently place thinly sliced salmon on cream cheese.
Sprinkle salmon with sprigs of fresh dill and lemon zest.
Sprinkle with a touch more Rub with Love.
Enjoy!